A few of our courses have prerequisites or recommendations.
Prerequisites are courses that we require learners to take and pass, prior to registering for the next course in the certificate. If you have not passed a prerequisite course prior to registering into the next course, a message will appear while registering online. Please call us at 416-978-2400 for guidance.
Recommendations will not prevent your enrolment into a course. While you do not need to submit any proof of meeting the recommendations, it is strongly advised that you meet them, as these courses are usually structured around knowledge gained in the prerequisite.
If a course has a prerequisite or recommendation, it will be noted on the right side of the course page.
Example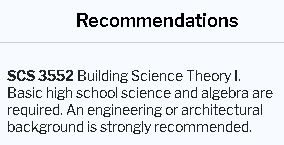 For all of our registration options, please visit this Help Center article.
Didn't find what you were looking for? Scroll to the bottom of this page, submit a support request form, and we will get back to you!