When a class is full, 14 days before the class start date, the section status on the course page will change to "WAIT LIST". If there is a green checkmark you're welcome to add yourself to the wait list. If the "WAIT LIST" button doesn't have a green checkmark, please return to the course page 14 days before the course start date.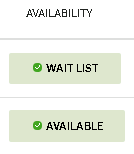 How to add yourself to the wait list
Select the drop-down arrow next to "section details" to view more information.
Click "join wait list" to add yourself to the wait list.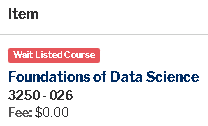 Your shopping cart will populate with the course. Please note there is no fee associated with adding yourself to the waitlist.
Once you're ready, select "checkout" to complete the transaction.
From there you'll create a student profile, then select "continue checkout", and you will be added to the wait list.
A receipt will be emailed to you, please remember this is just a confirmation of your place on the wait list. You are not registered in the course. You do not need to provide payment to do this – payment will only be required if and when space becomes available, at which point we will contact you to complete your registration.
There are a limited number of spaces on the waitlist so if it's past the 14 days before the class start date and the green checkmark isn't present, it means that the waitlist is full. If this is the case you will not be able to add yourself to the wait list, and will need to select a different session.
How will I be contacted if space becomes available?
If a space in the class becomes available you will be contacted by our team by email or phone, and given a timeframe in which to confirm that you still want the seat. If you do not respond within that timeframe we will offer the seat to the next person on the list. People are added to the waitlist on a first come, first served basis.
We are unable to predict if space will become available in the class as it depends on your position on the waitlist and if/how many people drop from the course.
Once the course has passed the registration deadline you will not be contacted from the waitlist.
For all of our registration options, please visit this Help Center article.
Didn't find what you were looking for? Scroll to the bottom of this page, submit a support request form, and we will get back to you!