A prior learning assessment (PLA), also known as advanced standing or course exemption, may be granted to those whose prior experience or formal learning demonstrates that course material has been covered.
Learners are only eligible to apply for a PLA if:
They are completing an SCS certificate and the course they want to be exempted is a requirement for the certificate. (standalone courses will not be considered)
The certificate has courses eligible for a PLA.
How do I know if a certificate has courses eligible for a PLA?
There will be a note called "Certificate Requirements" on the right side of the certificate page, stating whether any courses are eligible for a PLA consideration, and if so, which one(s). Please note that not all certificate are eligible for PLAs.
Example: certificate page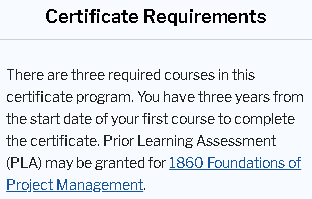 If your PLA is approved, please note that the substituted course will not appear on your Official Academic Transcript.
To apply for a PLA, please access the request form here.
Once we have received your documentation, the processing time is up to six weeks. Please take this timeline into consideration when planning your course registration.
Please note that we cannot offer any advice prior to the assessment, as to whether or not it will be approved. The PLA fee will be waived if the course being assessed was taken at the University of Toronto.
For all of our registration options, please visit this Help Center article.
Didn't find what you were looking for? Scroll to the bottom of this page, submit a support request form, and we will get back to you!