While our certificates completion deadlines are designed to give you plenty of time to finish the required courses while continuing your career and busy lives, we understand there are circumstances that may make it difficult to do so in the allotted time frame. If this is the case, please contact us by submitting a Petition to Extend a Certificate Program.
Your request will be forwarded to a supervisor for consideration, and we will let you know their decision. Each request is reviewed on a case-by-case basis.
How do I know how long I have to complete a certificate?
The number of years you have to complete the certificate usually depends on the number of required courses. You will find this information on the certificate page. Under "Certificate Requirements" on the right side of the page, it will note how many years you have to complete the certificate.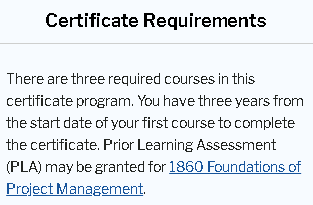 For all of our registration options, please visit this Help Center article.
Didn't find what you were looking for? Scroll to the bottom of this page, submit a support request form, and we will get back to you!